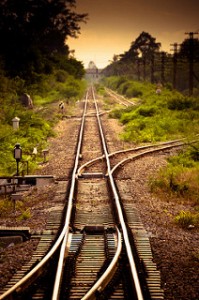 So, what do you do when you think you're on the perfect track and all of a sudden it's clear you have to go a different direction?
"I just don't get it. I know we were called into homeschooling years ago. But now, I'm certain we are being led in a different direction." These were the heartbroken words of a dear friend of mine recently. For the past several years, she was so courageous to go against the grain and pour herself into the total education of her children with passion and energy. Yet now, it was clear that medical and other significant challenges have closed this door, at least for now.   Promising new opportunities offered good possibilities, but this warrior friend was feeling attacked with all sorts of feelings of failure and frustration.
Last week, this blog focused on the miracles of the early days in the development of the Children's Park of Georgia. As I said, they still amaze me. But folks, it has been 10 years! Like my friend above, we have also had many times (eight to be exact) where we poured our hearts and countless hours into the pursuit of land for the park only end up feeling like it was a waste of time.
So, how have I stayed motivated when so many times things haven't turned out like I thought they would.  It seems that though the how (it would be done) has changed the what (vision for the park) has remained the same.  I have seen many "not here" or "not this way" answers.  But with careful observation, there has always been encouragement that came along with these disappointments.

Some of my favorite examples include: a supporter of the Children's Park in Tyler, Texas made an unexpected, major gift to us to propel our progress the same day we realized the land we thought we would build on wasn't a good fit after all. Also, during a frustrating time when another door had just closed, a friend who owns the Banks Team Realty, felt led to commit 1% of all of their commissions to the park. I still don't know if these folks understand how God used them to keep the dream and hope alive.
Another source of inspiration came to me from the story of a man who lived 180 years ago in Bristol, England. Long before computers were invented, George Mueller was the "original blogger".  He kept detailed accounts of his experiences, prayers and observations in hand written journals that are a gem for those who discover them today. He has become one of my favorite faith heroes of all time…one of those people I plan to look up when I get to Heaven
Inspired by A.H. Franke (who lived 140 years before his time), George set out on a mission to demonstrate with his life that "God does not forsake those who rely on him – even with changing times." In one of his early entries he wrote of his purpose: "Now if I, a poor man, could open an operate an orphanage purely by prayer and faith…it seemed to me that this tangible demonstration of God's blessing would strengthen the faith of God's children, besides showing unbelievers that we serve a God who can be trusted.
The detailed accounts of his faith journey are inspiring. The result – in the following years, he built not one but five orphanages to the glory of God. According to the biography Simple Trust, Simple Prayers by Cindy Mallin, "At the end of his life, the total of his worldly possessions was eight hundred dollars (equivalent to $20,000 in 2010 dollars), but through his lifetime, he had handled more than $8 million ($200 million in 2010 dollars).
So what does George Mueller have to say about these times when things don't work out how you think they will and God seemingly puts the brakes on your plans? A lot actually. Psalm 37:23 says "The steps of a good man are ordered by the Lord." Next to this verse, in the Margin of his bible, George wrote "And, the stops too." He also wrote in his journal: "I often fell to my knees before God and poured out my soul. When I arose, I was in peace because the trouble that was stirring in my soul had been cast upon God. It was no longer in me. Thus I was kept in peace even when God's will had taken me a thousand miles away."
Just because we reach a delay, a stop or feel like we've gone a thousand miles off course, it doesn't mean that it was all a waste of time
For my friend above, even though her direction is changing, she can still name many blessings and good things that came from her time homeschooling.  We also may never understand in this life how the course of her children may have been changed for the better because of this different path in their early years.
For the park, if any of those land opportunities that we had wanted so badly in the past had worked out (or if we had settled for opportunities that didn't seem right), then we would have missed this perfect timing now to work with Northside Hospital – Cherokee and locate this beautiful refuge next to their new hospital where it will provide the most benefit to the community.
It takes a lot of courage and humility to roll with upsetting changes of plans. Whether you get a definite "No, not this way." or just a "Wait", the trick is to learn to not lose heart in these times. Rather, as George has said, look at these trials as opportunities to build faith and trust and prepare to be amazed at what can come from "simple confidence in God."
Did you know you can sign up to receive blog entries straight to your "in box"?  Just enter your email address in the sign-up form above.